// July.15.2021 //
Firewind 2022 anniversary tour dates announced!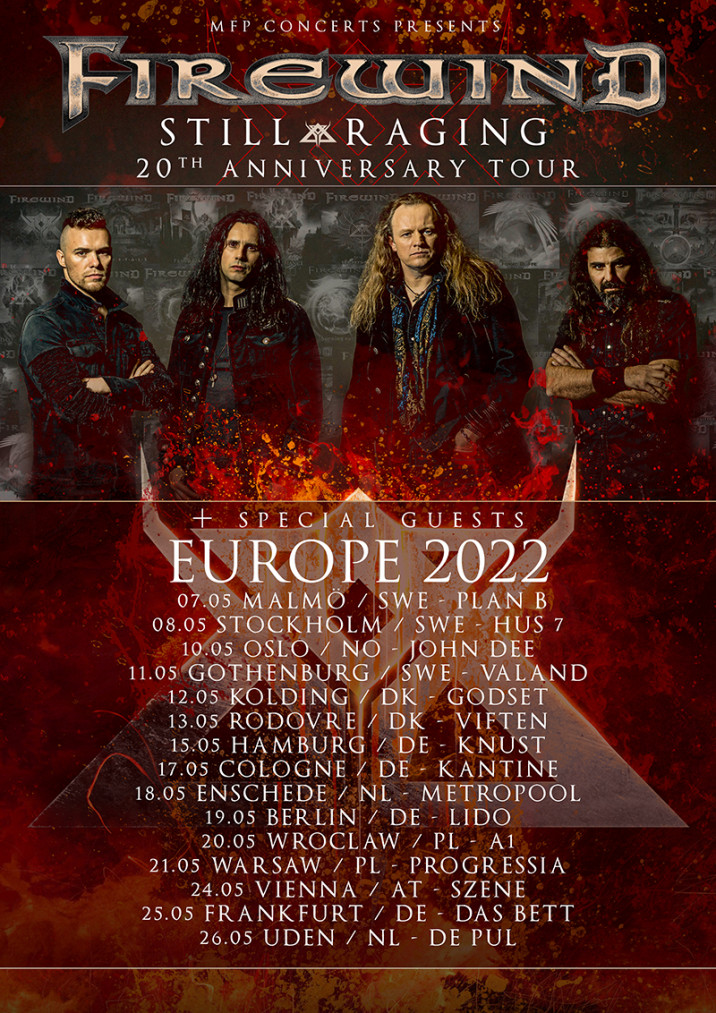 Still raging...Firewind has been at the forefront of European melodic heavy/power Metal for 2 decades now and what better way to celebrate that with a tour in Europe.
2022 marks the 20th anniversary since Gus G & Co. released their debut album. This headline run will be very special as the band will perform a 'best of' set, but also songs from their self titled album that features vocalist Herbie Langhans (Avantasia, etc.) that have never been played before, as well as some more obscure tracks from the band's catalogue!
Get your tickets at:
http://www.bandsintown.com/firewind
Tourdates:
07.05 MALMÖ / SWE - PLAN B
08.05 STOCKHOLM / SWE - HUS 7
10.05 OSLO / NO - JOHN DEE
11.05 GOTHENBURG / SWE - VALAND
12.05 KOLDING / DK - GODSET
13.05 RODOVRE / DK - VIFTEN
15.05 HAMBURG / DE - KNUST
17.05 COLOGNE / DE - KANTINE
18.05 ENSCHEDE / NL - METROPOOL
19.05 BERLIN / DE - LIDO
20.05 WROCLAW / PL - A2
21.05 WARSAW / PL - PROGRESSIA
24.05 VIENNA / AT - SZENE
25.05 FRANKFURT / DE - DAS BETT
26.05 UDEN / NL - DE PUL

// July.15.2021 //
FIREWIND Return to the stage!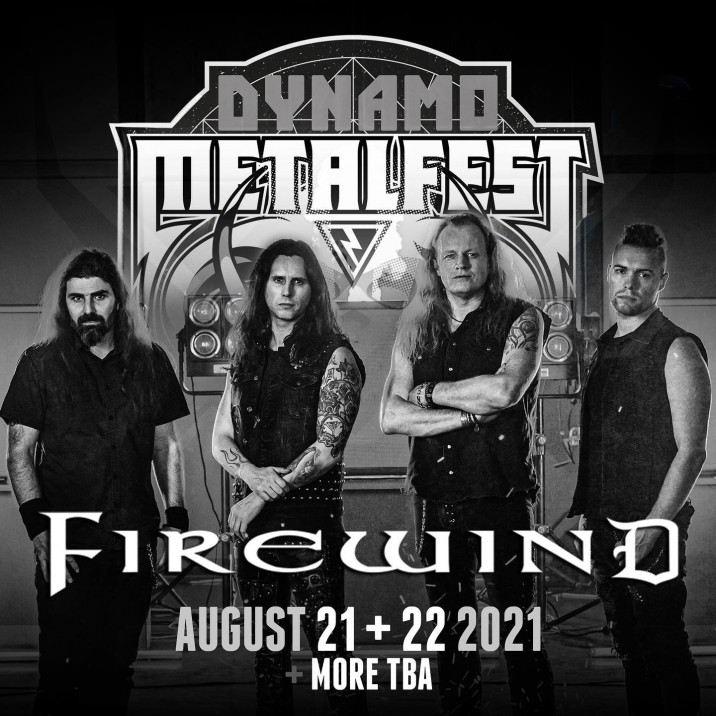 After what seemed like an eternity (to be exact, 20 months) we're finally excited to announce that we will perform again! While the pandemic put a major hold on all our touring plans, we will start the engines again by performing at Dynamo Festival on August 21, 2021 in Eindhoven, Netherlands. This will not only be our first show in 20 months but also our first show with Herbie Langhans fronting the band. We're also confirmed for the Monsters of Rock Cruise in February 2022. Stay tuned as more dates will be announced very soon!

// January.24.2021 //
FIREWIND Release music video for "Devour"

Power metallers Firewind released their latest studio album "Firewind" in May 2020 . While the band was forced to stay at home, due to the pandemic, they kept their creative spirit high and are now happy to present a new lyric video for the powerful and intense song "Devour" which also incorporates band performance scenes of all members.

Gus G. comments: ""Devour" was the first song I co-wrote with our new singer, Herbie Langhans. After hearing his vocal melodies, it was pretty obvious to me that he was the right man for the job, as this sounded 100% Firewind and features all the elements that the band is known for – melody, heavy attitude, catchy hooks, shredding solos, it's all there. Lyrically the song is about the endless pursuit of mankind for social status, wealth and getting caught up in the rat race."

Watch the video here:





// May.24.2020 //
New Album Out Now!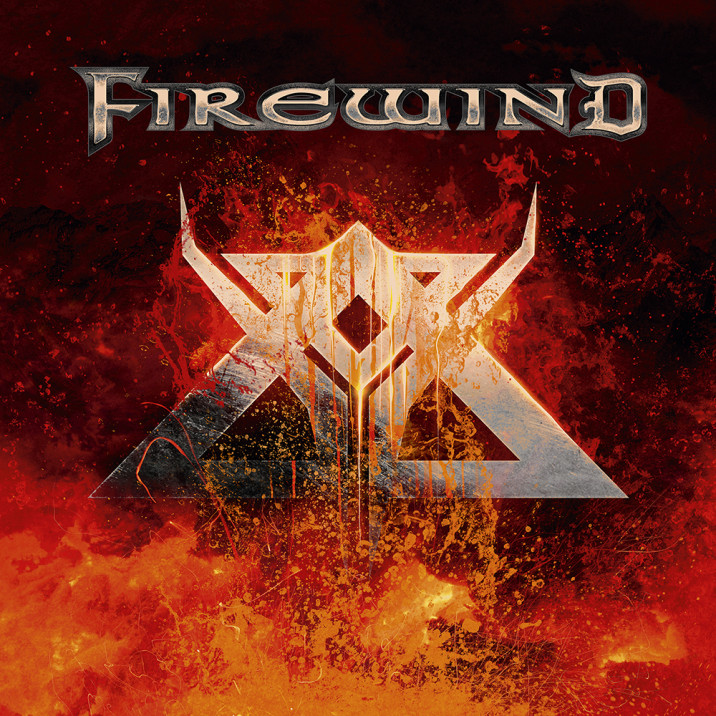 "A melodic Metal classic!" - KNAC.COM (USA)
"This is an album that you simply must own!" - Velvet Thunder (UK)
"Their finest hour" - Metalzone (Greece)
"A real triumph" - 89% Manofmuchmetal
"A great album from start to finish" - myglobalmind.com (Germany)
"This might be the best Firewind record to date!" - Metal Wani (USA)

This is the best reviewed album in FIREWIND's so far career! See below some of the press scores:

4,7/5 - Knac.com (USA)
9/10 - Metal Hammer (Greece)
5,5/7 - Metal Hammer (Germany)
9/10 - Rock Hard (Greece)
5/5 - Spark (Czech Republic)
4/5 - dangerdog.com
10/10 - Metalkaoz.com (USA)
10/10 - Rockoutstandout.com
10/10 - Rock-garage.com
9/10 - Metalheads Forever Magazine
8,5/10 - Metal Express Radio
85/100 - Rock Overdose (Greece)
80/100 - metalfans.be (Belgium)
8/10 - Blabbermouth.net (USA)
8/10 - Bravewords (Canada)
9/10 - LiveWiremusic
9/10 - Ostarametal.com
9/10 - darkstars.de (Germany)
9,5/10 - Metal Observer
9,5/10 - depart.gr

"Firewind" is out now worldwide and available as Digipak, ltd. colored Vinyl, ltd. t-shirt+CD/Vinyl bundles).

"Firewind" tracklisting:
01. Welcome To The Empire
02. Devour
03. Rising Fire
04. Break away
05. Orbitual Sunrise
06. Longing To Know You
07. Perfect Stranger
08. Overdrive
09. All My Life
10. Space Cowboy
11. Kill The Pain

// May.03.2020 //
FIREWIND NEW VIDEO OUT NOW!

We proudly present our new music video/single, "Welcome To The Empire". The song marks the second single taken from the upcoming album "Firewind" (out May 15th). The video clip was directed by Panagiotis Kountouras, VFX and post production done by Media Distribution Partners.



Gus G states: "Welcome To The Empire" is the opening track of the album and an obvious choice for a single. Making the video was an ongoing work in progress as we filmed the band performance back in January.

However, we wanted to blend in futuristic visual effects for the story and as I'm a huge sci-fi movie fan, I wanted to incorporate something along those lines. Our director Panagiotis Kountouras came up with the concept and we collaborated with MDP, a vfx company out of Hollywood, CA. The story is set in a dystopia, where humanity has been surrendered to the New World Order. Two cyborgs are playing with the future of mankind in a chess game. Each move has consequences and technology will be the only winner. It was a really challenging production, but we love the end result. We hope you will too!"